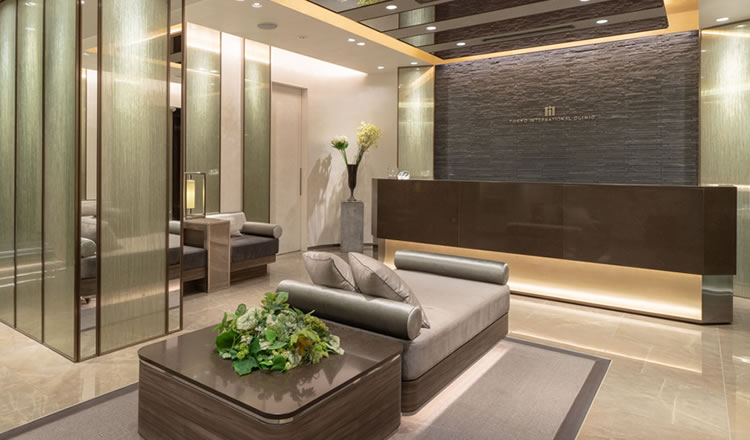 TOKYO INTERNATIONAL CLINIC/DENTISTRY
PAGES WITH
FOREIGN LANGUAGE
Tokyo International Clinic/Dentistry
deals with foreign language.
International people whose mother tongue is not Japanese
are welcome to talk to us anytime.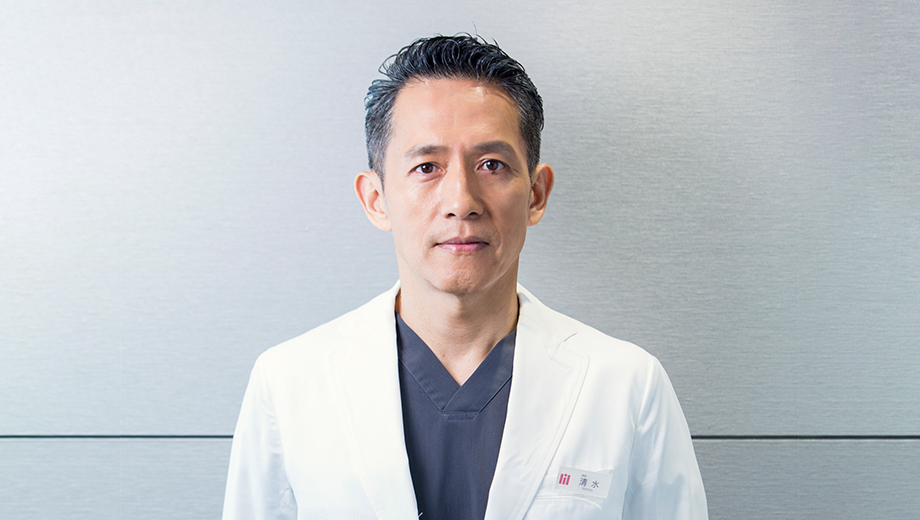 Tokyo International Clinic/Dentistry welcomes international patients whose mother tongue is not Japanese with well-prepared system so that they visit us with an easy mind. You can come to our dentistry without minding the language barrier as we have dentists, dental hygienists, and receptionists who speak English. In addition, a medical interpreter is available for other foreign languages except for English such as Chinese etc. Overseas people living in Japan or visiting Japan as a tourist or for business can feel free to talk to us, as well.
*Please contact us regarding the arrangement of the medical interpreter in advance.
*The fee for people residing overseas is different as treatment time is different. Please contact us about the fee in advance.
SECTION 01
Treatment policy 01
Treatment based on scientific evidence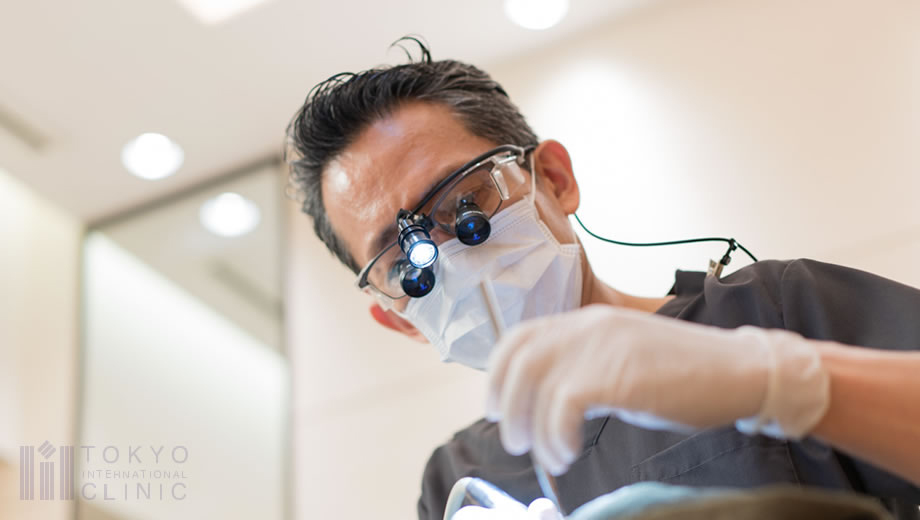 Tokyo International clinic/Dentistry provides a dental treatment based on scientific evidence. The dental treatment in our clinic utilizes the latest information and knowledge of European or American Academy of Periodontology into clinical procedure focusing the research results (EBM*) shown by Sweden Royal Gothenburg University called as "the Scandinavia school".
*EBM: evidence-based medicine
SECTION 02
Treatment policy 02
Treatment in which the burden to patients
is reducedas much as possible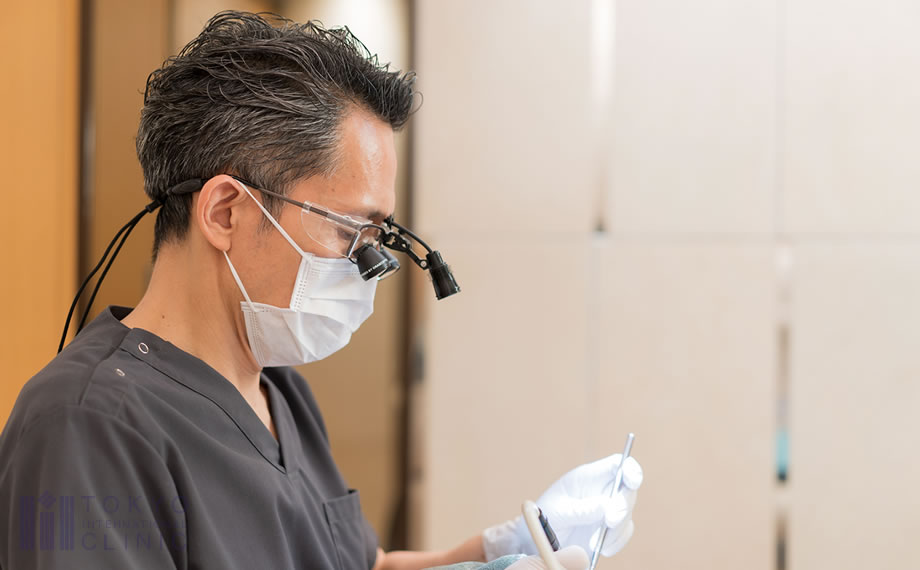 A dental care receiving the maximum effect by giving the minimum required treatment is performed in Tokyo International clinic/Dentistry based on the opinion of MI (Minimal Intervention). The MI treatment largely includes 3 guiding principles as follows; Not to drill a tooth as much as possible, To preserve a tooth without extracting as much as possible, and To treatment with minimum pain.
On the other hand, it is not a good idea to be a slave to no drilling and no extracting. There is a case in which extracting a tooth is the best treatment when we think of the prognostic stability. We think that the pulling out a tooth is the last resort and it is important to receive the maximum effect by giving the minimum required treatment for the sake of preserving teeth from the time of birth as much as possible.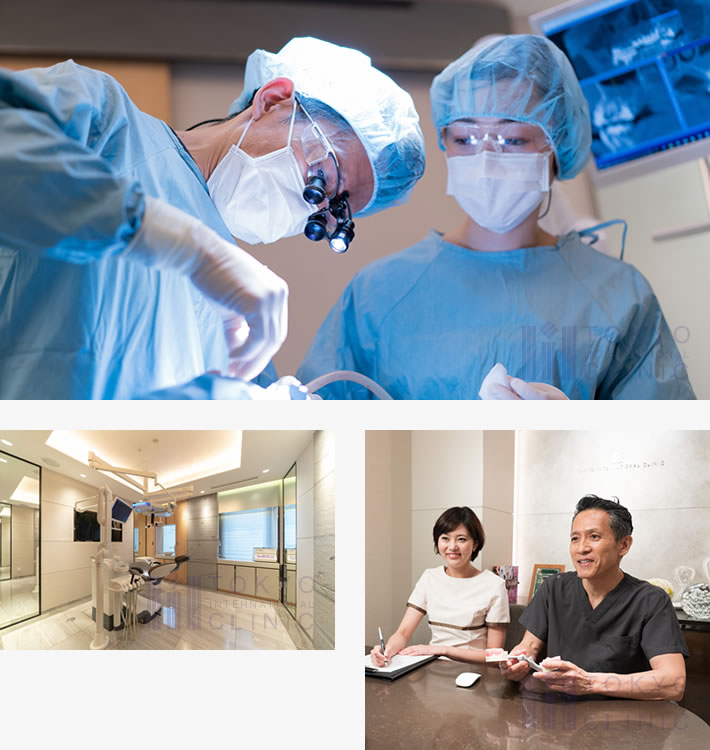 Treatment not to drill as much
as possible
It was general that decayed teeth used to be treated by drilling in a conventional dental treatment. When the dental enamel or dentin invaded by a cavity was drilled, the surrounding healthy dentin has been removed. It has also been natural to remove nerves in case of deep cavity which reaches close to the nerves. As a result of this treatment, a tooth has got week and brittle leading to the shortness of a tooth life span.
The goal of MI treatment is to make long lasting healthy oral environment with teeth of patients themselves. For example, in our clinic, we prevent a decayed tooth recurrent by removing just an infected part using dental microscope and repairing it with little space by a repairing procedure called direct posting. We try to leave lots of dentin as possible as we can, which leads to keep the strength of a tooth and to prolong a tooth life span.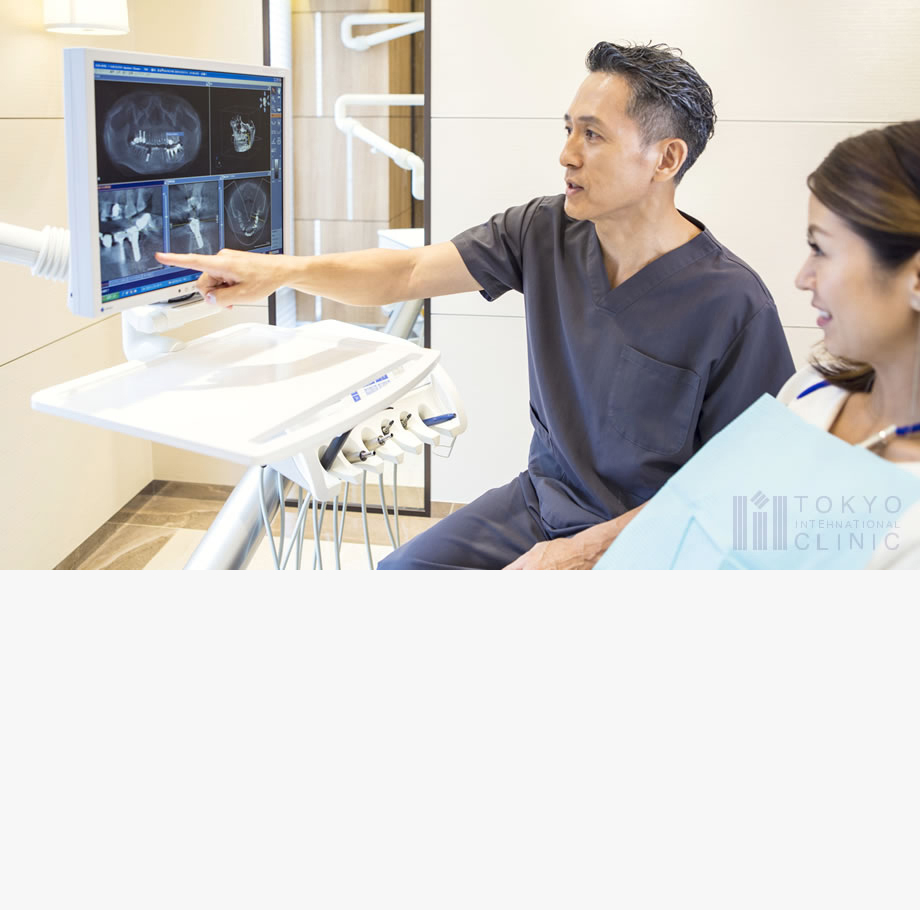 Treatment not to extract
as much as possible
We provide the treatment where we try not to pull out a tooth as much as we can. The reason for it is that there is no wonderful artificial tooth being better than patient's own tooth.
In a conventional dental treatment, pulling a tooth used to be easily performed when a decayed tooth or periodontal disease existed. However, we think that the number of tooth extraction cases which can be avoidable is not a few if an appropriate treatment is performed based on the correct examination and the diagnosis. The main reasons for extracting a tooth are a periodontal disease and a decayed tooth. Our clinic puts special effort into a periodontal disease treatment and a precise conservative treatment to reduce the tooth extraction caused by a periodontal disease or a decayed tooth as much as possible.
*The precise conservative treatment indicates three therapies including a dental pulp conservative treatment, a precise and infection tooth root canal treatment, and restoration treatment.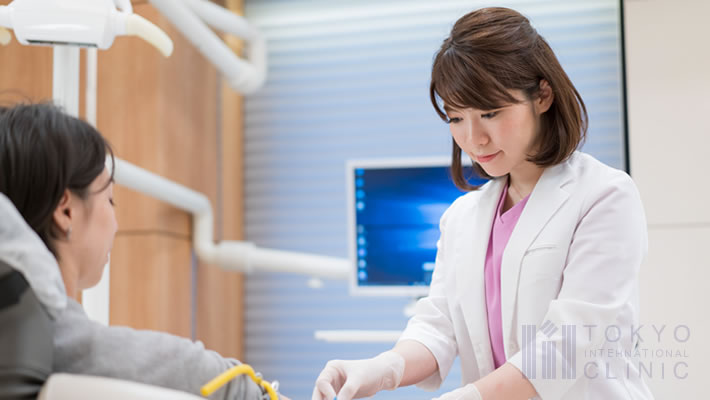 Treatment with minimum pain
We provide the treatment with lesser burden on a patient in our clinic. The treatment for a periodontal disease in our clinic called PERIOD is a non-surgical procedure which induces a periodontal disease to complete recovery.
Dental treatment has a general image to be painful, and there may be someone who avoids seeing a dentist even they have a symptom which requires to be treated because they dislike suffering pain. However, it is absolutely sure that the symptom will not improve if they do not go to the dental clinic. In addition, many people fall into a vicious cycle where symptoms get worse because of the late starting of the treatment.
We also perform a painless dental treatment using intravenous drip called intravenous sedation. In addition, we give surface anesthesia in the affected part through the procedure of general dental anesthesia, which goes without saying, and we use thin gauge anesthesia needles for an anesthetic injection, as well. We are working on reducing the pain caused by the anesthetic procedure itself as much as possible caring even the temperature control for anesthetic solution.
SECTION 03
In-clinic environment・Hygiene management
Tokyo International Clinic expresses our "OMOTENASHI (hospitality)"
from a waiting space to the doctor's office. We provide a medical care which patients take in comfortable
surroundings without worry.
Cozy and comfortable
in-clinic environment
Since our clinic was opened,
we have sincerely welcomed each patient with a heart of hospitality.
It is quite that we provide comfort in medical care and in addition,
we express our heart of the hospitality that we think about in the waiting space
so that patients are able to spend time relaxing heartily.
As long as a dental clinic is a place where people do not want to go,
the number of people who suffer from a periodontal disease or a decayed
tooth may not decrease. It ought to be a place where patients would like to go.
We dedicate to make a comfortable space which patients care for visiting
again though a dental clinic tend to have a proceeding negative image.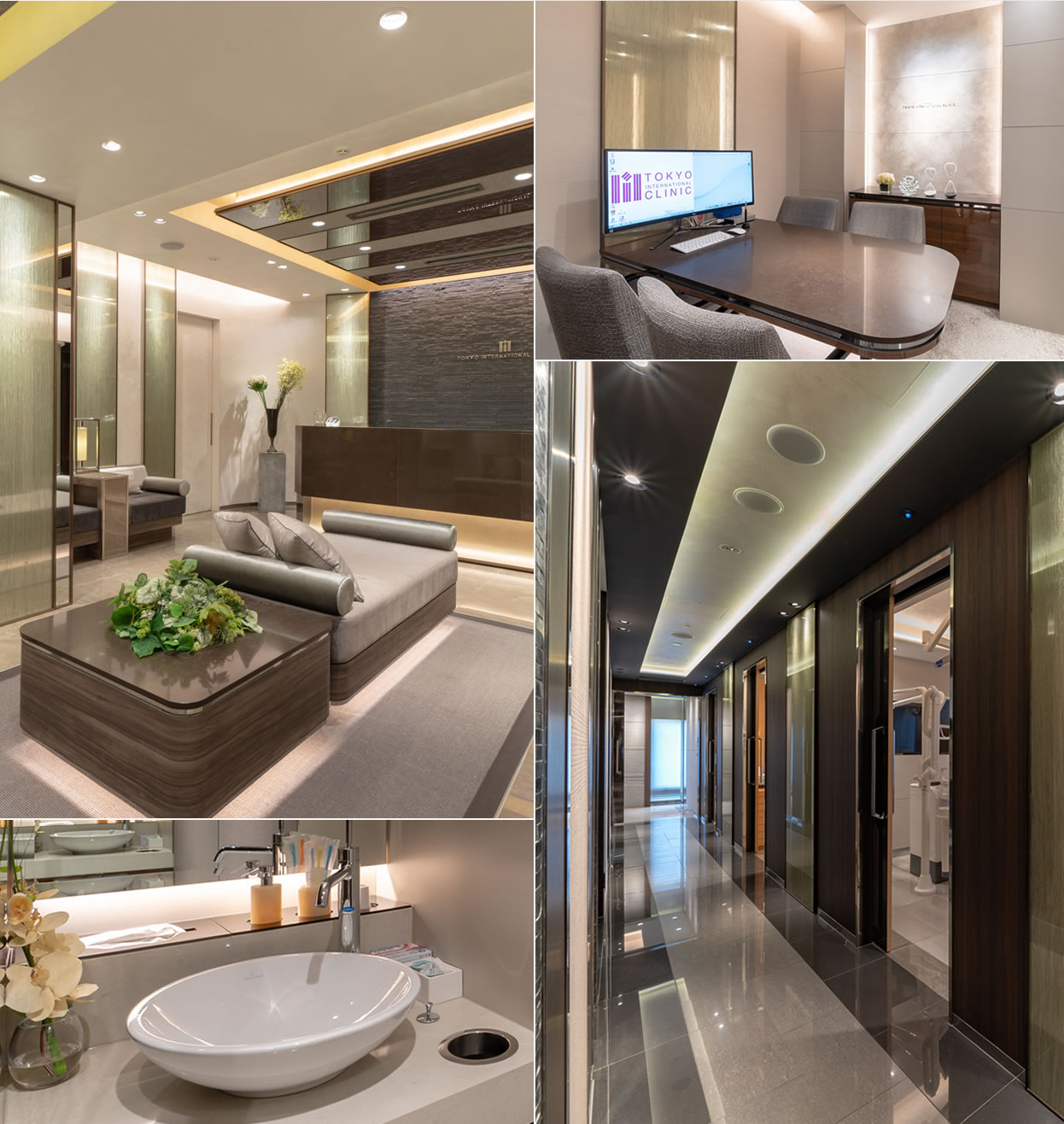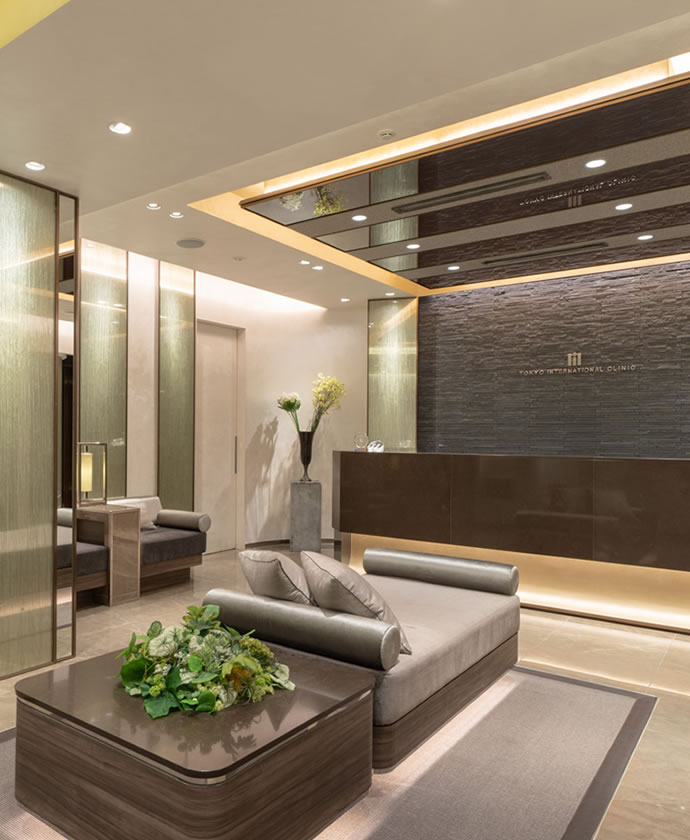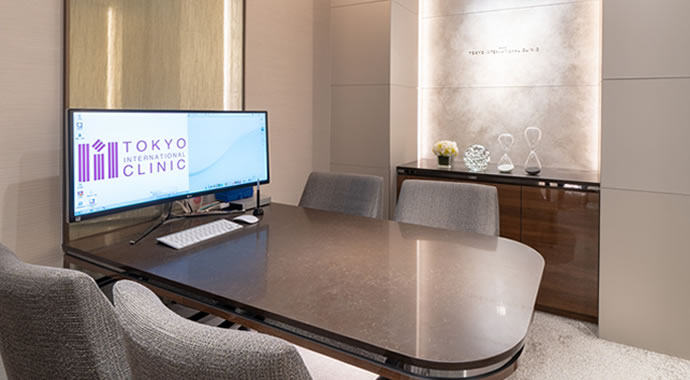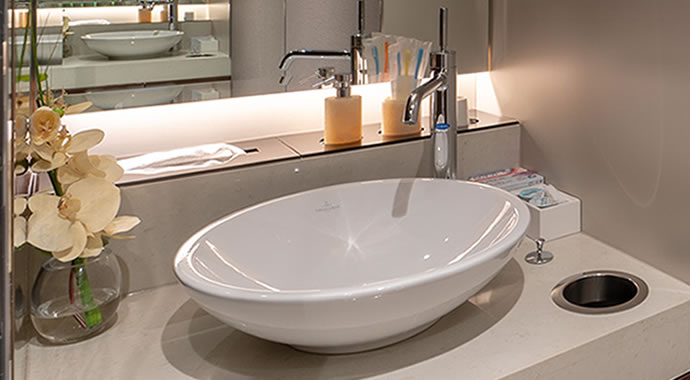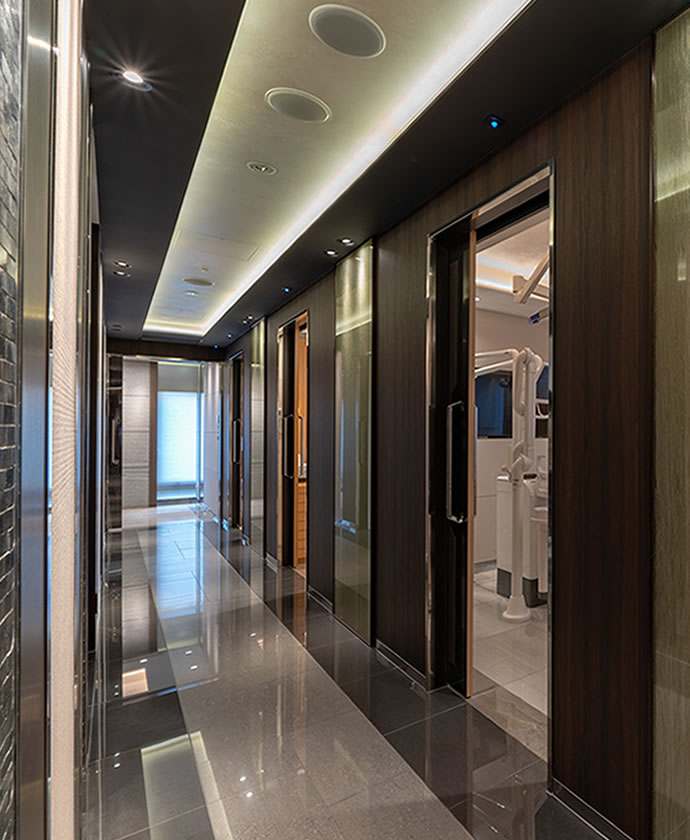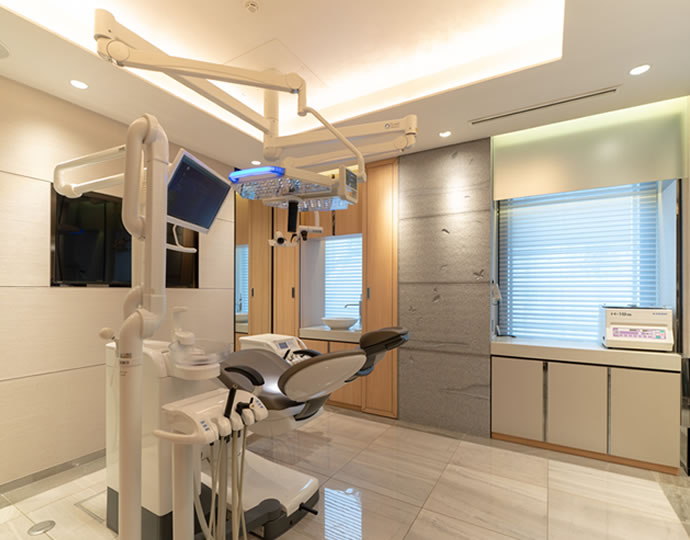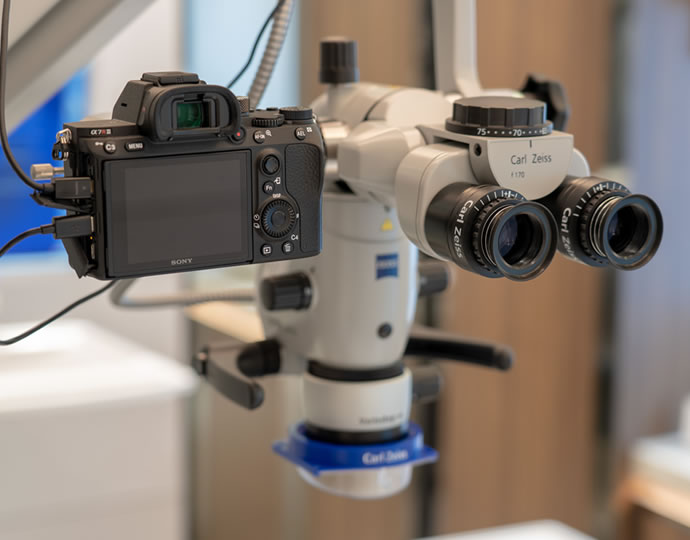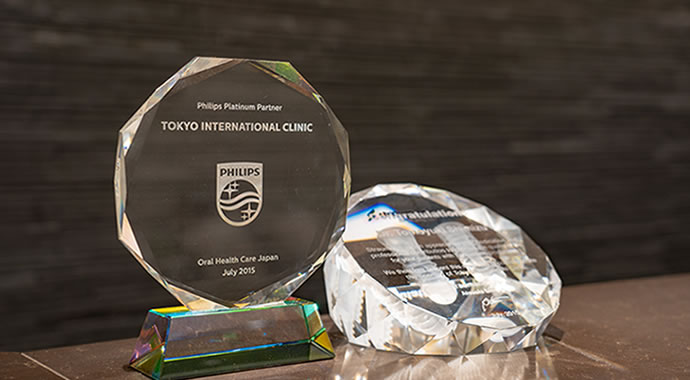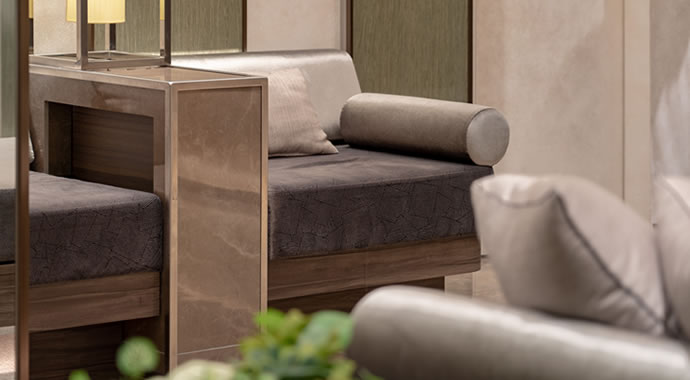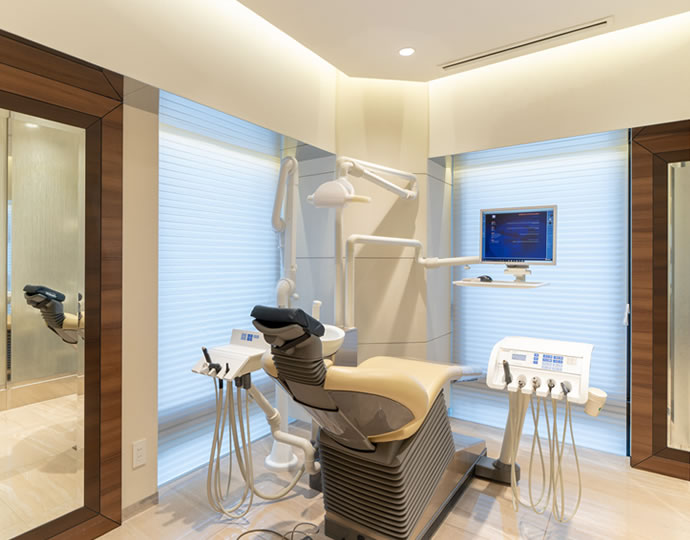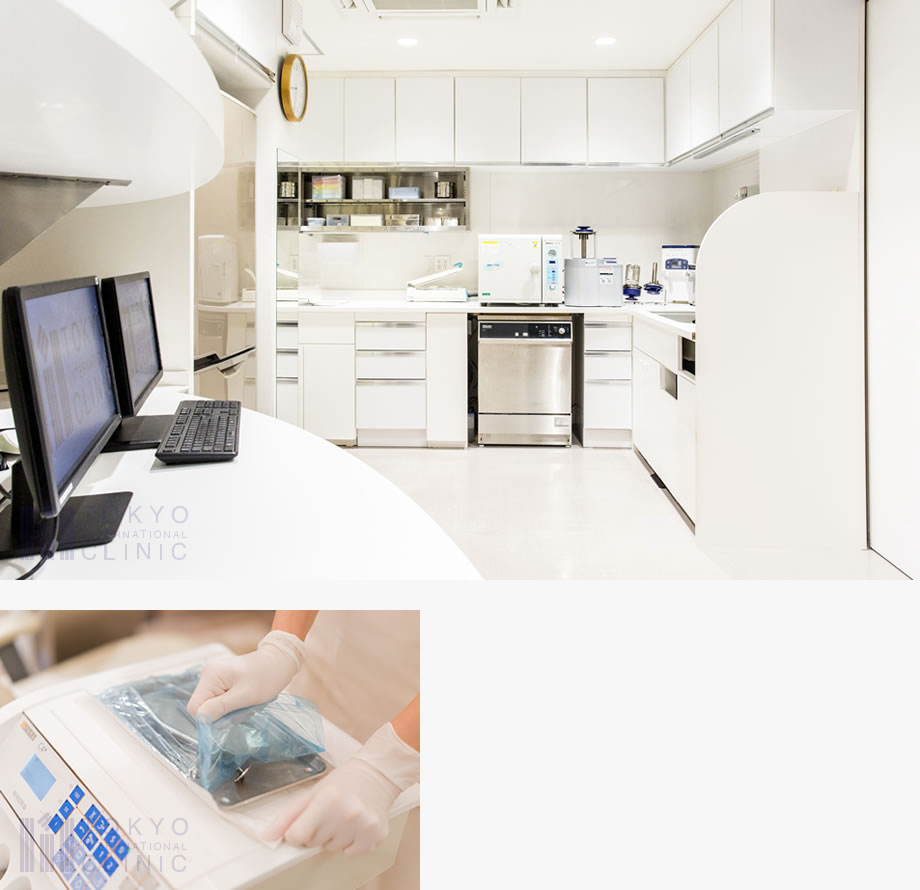 Through infection control
(Infection prevention)
We believe that our clinic can be a medical institute where all patients receive a dental care without worry. Therefore, we adopt the hygiene management system of the highest standard to keep through infection control (infection prevention).
The environment is invisible, that is why we prepare the environment so that we ourselves would like to be treated there and it should be safe and secure not only for a patient who is treated but also for staffs at medical fields. Imperfect sterilization of medical equipment used in treatment is one reason for hospital infection, which has become a problem in recent years. For instance, "hand piece" is a medical instrument to which saliva or blood adheres at rotating parts easily as it rotates in the mouth with high speed. It is important that those kinds of instruments should be sterilized in each case, however a few dental clinics sterilize all medical instruments such as hand piece every patient. The only device which can wash and sterilize inside of hand piece in Japan shows the penetration rates of only 4.5% among 68,000 dental clinics all over Japan (from the investigation of the manufacturer in May, 2018).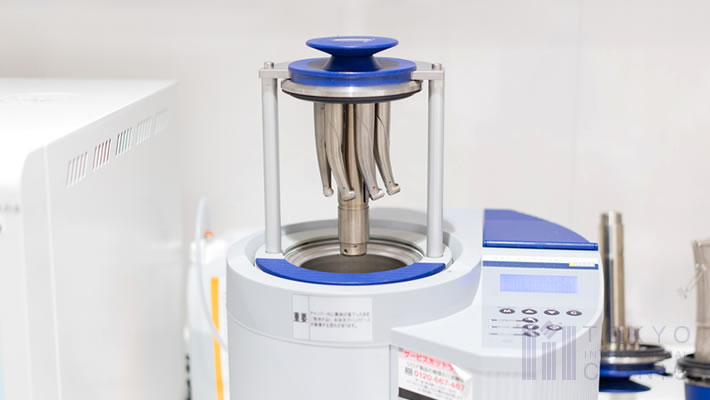 Sterilization processing* for all of the instruments in each patient is performed in our clinic using a sterilization device which completes class B specification shown in European standard "EN13060" which is stricter than the domestic sterilization standard. You have treatment without worry as we use instruments thoroughly sterilized against bacteria and virus, even though this is invisible thing.
*Sterilization processing is to kill all bacteria or virus completely (to make the
survival probability of a microbe etc. lower till less than 1/1,000,000).
Five promises for patients
We sterilize all medical instruments used for the treatment in each patient.
We use disposable items for those being unable to be sterilized or disinfected such as a paper cup,
an apron, and a headrest cover etc.
We use new gloves for each patient while conducting treatment.
We disinfect all places which has a possibility to be touched by patients for every medical treatment.
We do not use dental materials on multiple. Once the package of them has been unsealed,
we always discard the left-over materials.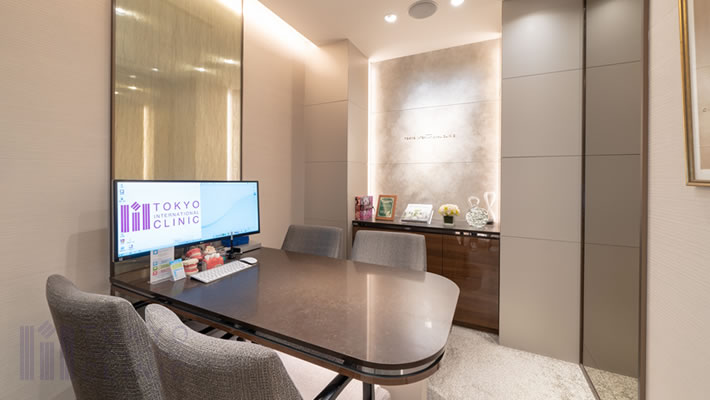 Consideration to privacy
We always keep in mind for consideration to patient privacy in our clinic. There is nothing to worry about catching your consultation details by other patients as you have medical service in a private treatment room from counseling to treatment. In addition, we prepare not only a private treatment room but also the room being able to be used with a family, parents and children or friends.
SECTION 04
Service system
Complete service system is established in Tokyo International Clinic/Dentistry
for a customer who comes from overseas or who is visiting Japan.
We provide a service corresponding to the situation or schedule of each patient.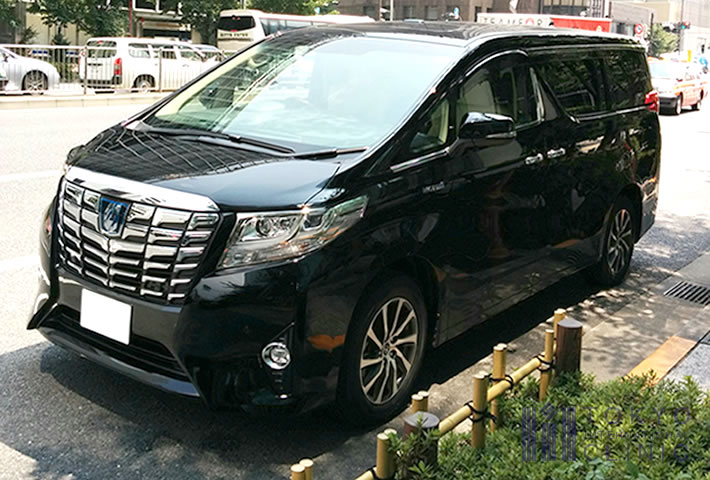 To patients who come
from a distant place
We provide free pickup service* from Tokyo station to the clinic for a patient who comes from a distant place or who has disability in walking. Please feel free to utilize it if you come from a distant place using Shinkansen or airplane, as well. In addition, we introduce accommodations near the clinic if you need it.
*Pickup service is reservation-only. It may not be available depends on the reservation status. We kindly ask for your understanding of this beforehand.
Adoption of appointment only system
We adopt appointment only system in order not to wait for patients or to provide an appropriate treatment within a necessary time while facing each patient.
We propose a medical treatment plan according to the situation or a life style of each patient: for instance, to patient who feels uneasy about coming to the clinic in future because of living in a distant place or of the working schedule, we arrange to make a single treatment time longer so that patient comes to the clinic once in 1-2 months.
Realization of the cooperation
between medicaland dental
Our dental clinic is established together with a medical clinic,
which is few in number in Japan.
Blood examination is performed in advance in case of conducting surgical procedure
including extraction of tooth,
periodontal surgery, or implant operation etc.
This is for facing treatment with perfect condition
while we try to understand the patients physical condition whether
they have anemia or infectious disease or their blood becomes hard to stop or not.

Recent studies have shown that a periodontal disease is strongly related
to general diseases such as diabetes or heart disease.
This is what seems it important to understand patients general condition.
We provide a dental care thinking of not only patient's oral environment
but also general health condition under the tight corporation between medical department
and dentistry in addition to share the patient health condition
with specialist in various medical departments.
Tokyo International Clinic/dentistry
will provide the best dental treatment
which takes into consideration future
needs several years later.
Please feel free to contact us even if you are diagnosed
as a progressing decayed tooth or severe periodontal disease